Utah & Arizona National Park Road Trip with an Infant
We took an ambitious National Park road trip through Utah and Arizona with a 6 month old last summer. It was one of the best trip we've ever taken, not just because of the scenery but because we were able to enjoy it with our son. He may not remember the things we did or saw, but we'll remember and cherish those memories for the rest of our lives.

We get a lot of questions on where we went, what we saw and how we survived with a toddler so I made this guide to help anyone planning a similar trip. Below I've outlined where we went and also include a packing list and some helpful tips to make the most of your trip at the bottom!
Valley of Fire State Park
We started our trip in Las Vegas. We picked up our rental vehicle, grabbed a snack, changed Atli and were on way. We passed through Valley of Fire State Park and made a quick stop to see what it was all about. We didn't explore too much, since it was 113F at the time, and it didn't sound fun hiking in that weather with a baby (who was actually asleep at the time and to maximize his nap we wanted to keep moving so that he'd stay sleeping until we arrived at our first destination).
After a quick stop and a few photos we were on our way. We stayed in a cool Airbnb in Hurricane, UT. The bed was comfortable, the A/C was pumping and they had laundry. This was key since we decided to stay here for the last few nights of our trip as well and we were able to do laundry so that all our clothes were clean before we headed home. It was also conveniently located near Zion National Park and on the way to Bryce Canyon National Park.
Bryce Canyon National Park
After leaving Hurricane, we drove to Bryce Canyon. There we stopped for a snack, water, a short hike and pretty views. It was hot so we decided against going down the trail since it was midday and the sun isn't forgiving at that time of year. Atli fell asleep in the carrier and woke up for a feed before we loaded back up to continue our drive. This was by far the longest driving day with a total of about 5.5 hours in the car.

Due to its more remote location, Bryce Canyon received substantially less visitors than neighbouring Zion National Park or the Grand Canyon further south. It's comprised of a sort of amphitheatre of rock and rock pinnacles called hoodoos and a bit cooler in temperature thank Zion due to it's slightly higher elevation.
Capitol Reef National Park
We didn't get to explore as much of this park as we would have liked. It's a very underrated national park and pretty vast, so it can be a lot of driving to get to spots you'd like to visit. There was a threat of some monsoon storms so we didn't go down a dirt road that led to the iconic view of Capitol Reef out of fear that it would start raining and we'd get stuck or there would be flash floods. It was really pretty to see, but if we are ever back I'd like to spend more time here.
Goblin Valley State Park
This was our final stop for the day. It literally is in the middle of nowhere and you'll be driving and have absolutely no clue where it is. I thought that our google map for offline wasn't updating or loading because I didn't see a road turn off where it said we'd be turning and I was getting paranoid. It was also very hot and with an infant I was worried we'd be entering a melting pot. Goblin Valley is surrounded by rocks and only about 40 square kilometer. The park features a bunch of hoodoos, also referred to as goblins. Hoodoos are mushroom-shaped rock formations that cover the landscape, making it otherworldly, as if stepping onto Mars. The distinct shapes of these rocks result from an erosion-resistant layer of rock atop softer sandstone.

Within the park you are able to camp in a tent or you can rent one of two yurts, which are a bit more "luxurious" than camping as it includes a futon, bunk beds, table and solar powered light / air conditioning. You do have to provide your own bedding but it's a great alternative if you don't want to camp or pack all of your camping gear. We did bring our camping head lamps & camp stove so we were able to boil some water for our dinner. I love our little camp stove which packs up super small and fits into the palm of our hand. A little note: you can't bring fuel canisters on flights but we usually buy a small one when we arrive at our destination for like $5.
Arches National Park
Most of our drives were around 2-3 hrs, which happens to be perfect napping length. We timed either Atli's morning or midday nap with driving so that he didn't have to be awake in the car a lot. After exploring Goblin Valley in the morning, we packed up and headed towards Arches National Park. This day was super sunny and hot. Once we arrive in Moab, which is the town nearest to the park (just a short drive away) we decided we'd wait until the evening to go explore in the park. To keep cool, we visited the community rec centre for a swim! They have huge doors that open to the outdoors and you can swim from the inside to the outside. It was the perfect way to stay cool!

In Arches, the road leads you to all the key spots where you can park and then either take short hikes to the closer arches or hike to further viewpoints. We visited Double Arch, the Windows, Delicate Arch, Landscape Arch, and many more.
Canyonlands National Park
Before heading out to our next location, we woke up before sunrise and drove to Canyonlands National Park. We did the short hike to Mesa Arch where there were already about 15 people waiting with the same idea. We all quietly took in the landscape and it remained quiet as the sun rose. I am most proud of these photographs from the trip! An incredible morning we'll never forget.
Monument Valley
Monument Valley is a Navajo Tribal Park located on the border of Utah and Arizona. Characterized by large sandstone towers jutting out of the Colorado Plateau and is said to be one of the most photographed places on earth. When driving up you can kind of see the iconic landscape but it isn't until you get to the visit centre, park your car and walk over that you really see it in all it's beauty. A beautiful thing about Monument Valley is that the view is easily accessible for anyone in wheelchairs, strollers etc. The visitor centre is comprised of a cafe, gift shop and the View Hotel.

Once you take in the view, you can take a gravel road to see it up close. The Valley Drive is 17 miles long and typically takes 2 to 4 hours to complete with stops. The posted speed limit is 15 mph and it should be adhered to. The road can get quite bumpy and rocky, making going faster near to impossible. Also going faster kicks up a lot of dust. The road can get very busy during the day and the best time to visit is early morning when the light is nicest. We spent a day there and the evening we arrived we witnessed some incredible monsoon storms. When visiting in the summer months you'll likely see some storms as it's monsoon season. I as lucky enough to capture some lightning in the valley from the balcony of our hotel room. The next morning we woke up before sunrise to watch it light up the valley before having breakfast and then doing the valley drive. That was the perfect amount of time to see everything and staying any longer isn't really necessary.
Antelope Canyon
Although we decided against going into any canyons this time around, we did visit Antelope canyon a few years back and I wanted to include those images here. We visited at the end of October and it was still very hot (around 30 degrees Celsius). Antelope Canyon is located near Page, Arizona which is conveniently located in the centre between Horseshoe Bend, Antelope Canyon and Lake Powell. At the time, lower Antelope Canyon, which is located within tribal land and run by navajo, offered photography tours. I don't think they do anymore so you have to take the regular tour. You're still able to see everything and capture some incredible photographs.

This time around we decided against doing the tour (which is very reasonably priced) for a few reasons:

- it's hot in there without any breeze, especially in the summer months
- in monsoon season, there is always a threat of a storm and that means the threat of flash floods
- we didn't feel like standing in a line with a bunch of people
If you have never been, you MUST visit!
Lake Powell
We cooled off with a swim at Lake Powell. It was hot but we bought a cheap $20 shade and had lots of snacks and water. After a few hours at the beach we packed up and headed back across the border to Arizona to Horseshoe Bend.
Horseshoe Bend
Horseshoe Bend is a horseshoe-shaped canyon shaped by the Colorado River and located just south of the Glen Canyon dam.It's accessibly via a 2.4 km roundtrip hike from the parking lot. It's completely exposed, without any toilets or shade on the way or once you arrive at the viewing point. Once you arrive, you don't really see it under you get pretty close. There is a 1,000 ft drop down to the river! It's almost incomprehensible how water eroded the rock over thousands of years to form that distinct horseshoe shape.

With social media, Horseshoe Bend has gained in popularity even since we visited in 2016. They made a "viewing platform" and the parking lot gets filled up very quickly. You want to visit closest to sunset and pack water and a hat. During the summer months when it's very hot, people underestimate how tired and hot they'll get. Be prepared, stay hydrated and wear appropriate shoes. I saw so many people walking in flip-flops, without water or hats and already looking very sweaty on the way there. Don't be that person.
Zion National Park
The iconic view of Zion National Park draws people from all over the world. By far the busiest park we visited, Zion is undeniably beautiful. There is only a small parking lot near the visitor centre and you're very lucky to get a spot there (we were one of the lucky one!) but usually it's recommended to park in the nearby town of Springdale and take the free shuttle into the park. Once in the park, there is another shuttle that runs to all the main view points. The road within Zion is closer to outside vehicles from
Where to Stay
Goblin Valley State Park Yurt
We had always wanted to stay at this yurt but never thought we'd get the chance. It wasn't until we booked our flights that we realized Goblin Valley State Park was on the driving route we planned to take. I went on the state park website and there happened to be availability for one night perfectly placed when we needed it and it was only $100 US. The yurt is equipped with solar powered lights and A/C as well as a BBQ. Rather than run the A/C during the day, we decided to run it in the afternoon and it cooled down enough at night that we turned it off. We forgot to pack sheets, so we slept on a blanket I had packed with no sheet on top of us and it was surprisingly comfy. We packed a lamp and headlamps and used them throughout the trip, they came in handy here since Goblin Valley is literally in the middle of no where and once the sun went down it was pitch black.
Under Canvas Moab
We spent a couple nights glamping at Under Canvas Moab. Although our trip was at the end of July which is literally the hottest time to visit we didn't find it uncomfortable to sleep at night. The camp is equipped with misters that run throughout the day if you're around and they also have solar powered battery packs and fans which we had running with the flaps of the tent open for the nighttime breeze. They have a water cooler which we took advantage of to fill up our water bottles.
The View Hotel
If you want to explore Monument Valley at sunrise or sunset without having to drive far to where you're staying, you'll want to stay at The View Hotel. Located within the Najavo Tribal Park, it has incredible views of the iconic Monument Valley. There's a gift shop and restaurant attached as well.
Parry Lodge
Between Paige, Arizona and Hurricane, Utah it was a bit of a drive. Since we wanted to enjoy sunset at Horseshoe Bend and didn't want to have to do a hefty drive that evening, we decided to stay halfway in the town of Kanab, Utah. We found Parry Lodge which included breakfast and had a pool which we used before heading out to Zion the following day.
Hurricane, Utah
We found a really sweet AirBnB in Hurricane where we stayed for the first and last nights of our trip. It was clean, had a comfy bed, air conditioning and laundry which was key for cleaning our clothes before heading home.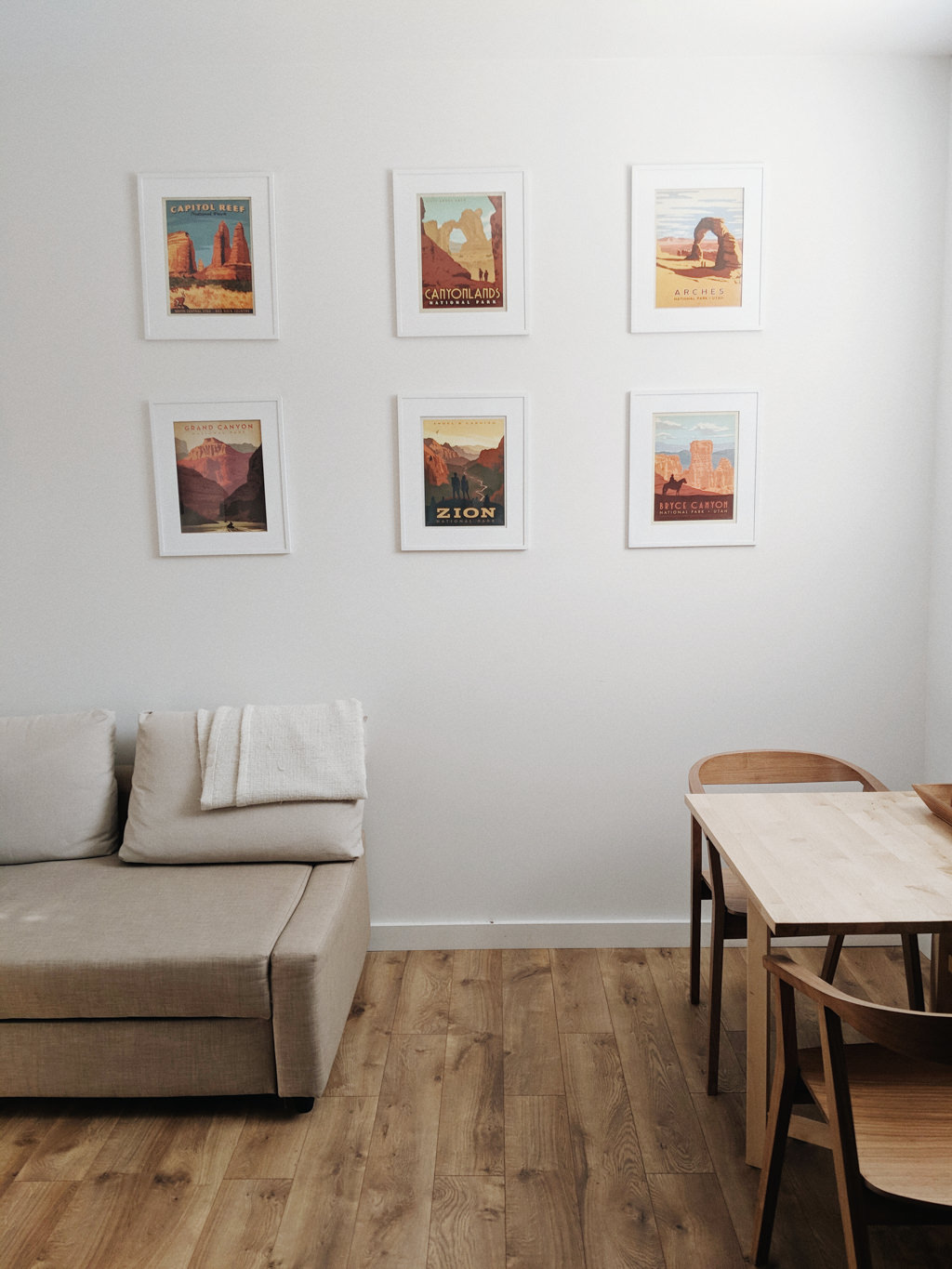 Tips for Traveling to Utah & Arizona with an Infant
Plan Driving Around Nap Time
This is the ideal way to do a road trip with an infant. Since they sleep a lot, we tried to time our driving from one location to the next with his napping schedule. That way he was getting a good sleep and wouldn't be cranky and we didn't have to feel bad about him being in a carseat awake / trying to entertain him. There were a few times when he woke up towards the end of the driving and I just had to sing songs and play with him. We brought our UPPAbaby stroller and carseat with us which both came in handy.
Pack a Carrier for Hiking
Our favourite carrier, the Ergo Baby, was so useful on this trip. Atli loved being in it and being able to see everything around him. It comes in many different colours and offers great back and shoulder support.
Pack a Hat
This is a must. We packed wide-brimmed hats for us and a bucket hat for Atli. The sun is hot, unforgivingly hot, so protecting your face is important. Also it helps keep you cool and in the case of the little one, you can drench the hat in water before putting it on them to keep them cool.
Bring a Reusable Water Bottle & Stay Hydrated
A lot of the national parks have hydration stations for filling up water bottles. The water is safe to drink and free to fill so make sure you take advantage of this anytime you see one. We also took it as an opportunity to soak Atli's hat in water when we were out if it was hot. This helped keep him nice and cool since he has a lot of hair.
Avoid Midday Sun Exposure During the Hot Summer Months
We aimed to keep our outdoor activities limited to the first few hours after sunrise and the last few hours before sunset. Midday in July in Utah is no joke. It gets very hot and with limited shade, you're fully in the sun. This can be deadly for an infant. We got creative and found indoor activities for midday if we were staying in a location for more than a day. Otherwise, we planned our driving during midday when Atli was napping. This served two purposes: we were in the shade with the A/C on and he was able to get a good nap while we drove so that he wasn't awake and we didn't have to try to entertain him.

In Moab we had a few days so I looked up things to do because it was one of the only places we stayed where there was a bit of a town. Lucky for us there was public swimming on Thursdays so we went to the pool. It kept all of us cool and since Atli loves water, he had the best time!